Image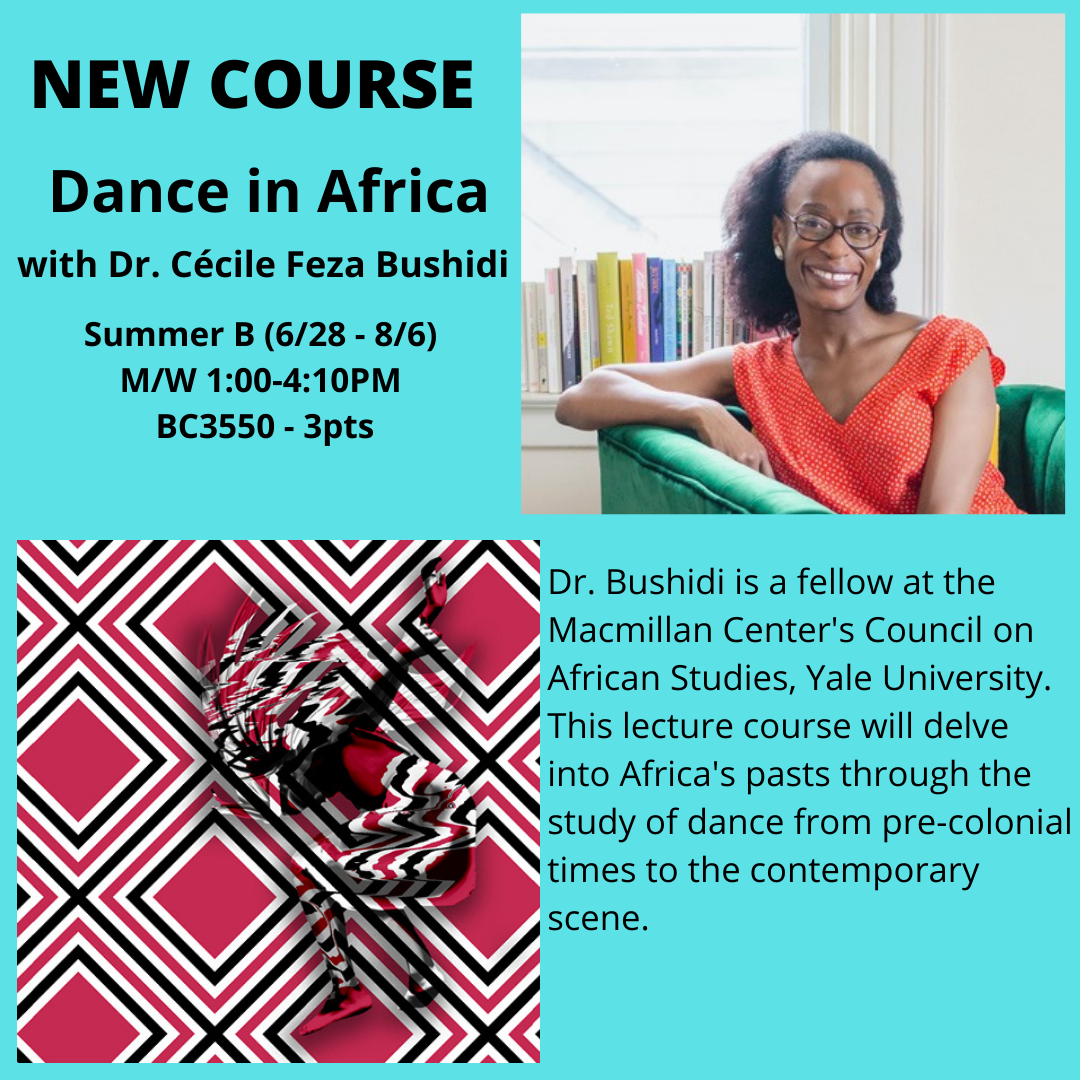 *************NEW COURSE FOR SUMMER 2021*************
CHANGE!!!! NOW SUMMER B
Dance in Africa
Summer B (6/28 - 8/06)
DNCE BC 3550
M/W 1:00-4:10PM
Dr. Cécile Feza Bushidi
​This lecture course will delve into Africa's pasts through the study of dance from pre-colonial times to the contemporary scene.
*************NEW COURSES FOR SPRING 2019*************

Choreographing Race In America
DNCE BC 3002
T&TH 11:40-12:55
Prof. Seth Williams
​This introductory lecture course tells the history of race in 20th- and 21st-century America, indeed queries the very concept of race, by focusing on contributions by artists of color to ballet, movie musicals, music videos, experimental dance, and more. How does dance express everything from "yellow peril," to red power, to black joy? How do specific choreographies help to produce racial and ethnic identities? In exploring these questions, the course treats "choreography" as a broad conceptual category illuminating the role of moving bodies in histories of immigration and segregation, empowerment and civil rights, and shows what new vantages the study of choreography can contribute to critical race theory.
Seeing the Body: Movement and Physicality in Modern Visual Culture
DNCE BC 3240
T&TH 2:40-3:55
Prof. Marjorie Folkman
Seeing the Body: Movement and Physicality in Modern Visual Culture will examine how concepts of movement, space, and time gained an outsized role in photographic and cinematic experimentation, typography, interior design and exhibition, contributing a choreographic voice to the interwar age.
Our course will incorporate texts, images, and films connected to the fields of Dance History, Art History and Urban Studies. Beginning with a study of how nineteenth-century industrialization and urbanization laid the foundations for the physical articulations of the early twentieth century, we will consider both avant-garde and popular visual phenomena to gain wider perception and a deeper understanding of interwar cultural expression, and how visual expressions of physicality are reflected in our current digital age.
Coding Choreography
DNCE BC 3144
W 1:10-2:25 Movement Lab, Milstein Center
F 3:20-5:20 at NYU
Prof. Mimi Yin
This course re-conceives interactive media as a form of choreographic intervention. Instead of asking how dancers can control media, we will turn the tables to ask how interactive systems can influence movement. To accomplish this, choreographers will learn to apply computational thinking to choreography and programmers will learn to apply choreographic thinking to computation.