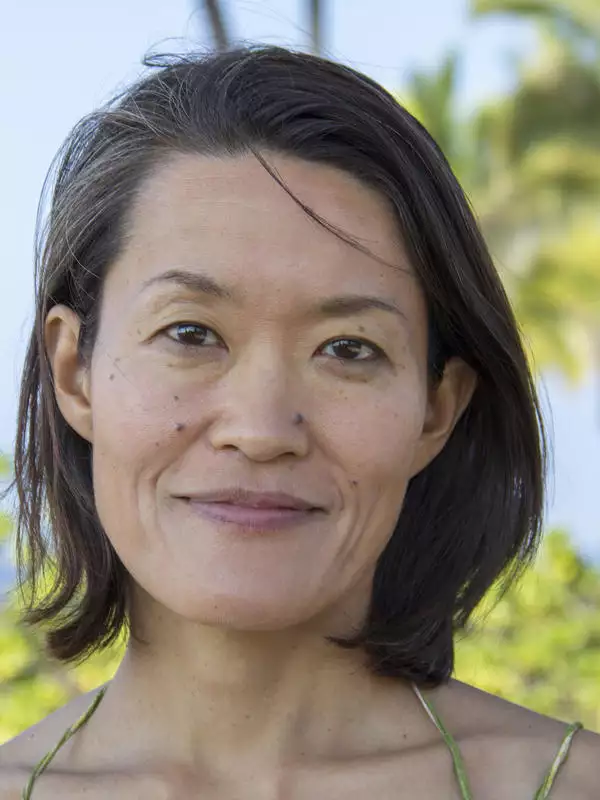 Chisa Hidaka
Lecturer in Dance
Inquiry and discovery are the themes that tie together the experiences of Chisa Hidaka, MD, Lecturer and instructor of the course Applied Anatomy of Human Movement since 2007. Dr. Hidaka created the curriculum for this experiential course combining her experience as a dancer/choreographer and free diver, her training in orthopedic surgery and perspective as a research scientist in musculoskeletal tissue repair and regeneration. She has also taught anatomy at Manhattanville College and the Feldenkrais Institute.
A graduate of the Barnard Dance Program (1986) Dr. Hidaka performed with several independent choreographers including Mark Dendy, Doug Elkins, Marta Renzi and Bill Young, among others in the 1980s winning critical acclaim for her charismatic performances. The NY Times has described her as dancing, 'engagingly, as if consumed by the dance.' An avid improviser for over 20 years, she continues to be active in the NYC contact improvisation community.
Dr. Hidaka received her MD from the Weill Medical College of Cornell University (1994) and trained at the Hospital for Special Surgery (HSS) in orthopedic surgery. She joined the research faculty there in 2001 and previously headed a research group in the Tissue Engineering, Repair and Regeneration Program where she received over $1M in grants from the National Institutes of Health, the Arthritis Foundation and other foundations and published over 30 peer-reviewed original research papers and review articles. Her current roles at HSS are as medical writer and Chair of the Medical Student Summer Research Fellowship.
In 2009, Dr. Hidaka initiated the Dolphin Dance Project (www.dolphin-dance.org). With partner Benjamin Harley, she brings together wild dolphins and trained human dancers for collaborative inter-species underwater dance making in the open ocean. Her award winning first film, "Together: Dancing with Spinner Dolphins" (2010) has screened at festivals worldwide. In 2014 she  was the recipient of a grant from the Lower Manhattan Cultural Council to produce "So Close 3D: Dance with Wild Dolphins" a one hour program of live dance, 2D and 3D films of the human-dolphin dance. The most recent film "Dolphin Dreams" (2016), was shot by multi-Emmy Award winning cinematographer Howard Hall, with an original score by Grammy Award winning cellist and composer David Darling, with support from a NYSCA Composer Commission. It won Silver at the Our World Underwater Video and Photography Competition in February 2016.
Barnard (BS 1986)
Cornell (MD 1994)
Applied Anatomy of Human Movement
Human Anatomy Laboratory
Hidaka C, Dolphins Don't Storyboard
Dance Films Association Journal October 28, 2010 http://dancefilms.org/2010/10/28/dfa-dance-on-camera-journal-2/
Rodeo SA, Arnoczky SP, Torzilli PA, Hidaka C, Warren RF. Tendon-healing in a bone tunnel. A biomechanical and histological study in the dog. JBJS. 1993 Dec 1;75(12):1795-803.
Hidaka C, Milano E, Leopold PL, Bergelson JM, Hackett NR, Finberg RW, Wickham TJ, Kovesdi I, Roelvink P, Crystal RG. CAR-dependent and CAR-independent pathways of adenovirus vector–mediated gene transfer and expression in human fibroblasts. The Journal of clinical investigation. 1999 Feb 15;103(4):579-87.
Hidaka C, Goodrich LR, Chen CT, Warren RF, Crystal RG, Nixon AJ. Acceleration of cartilage repair by genetically modified chondrocytes over expressing bone morphogenetic protein-7. Journal of Orthopaedic Research. 2003 Jan 1;21(4):573-83.
Zhu W, Rawlins BA, Boachie‐Adjei O, Myers ER, Arimizu J, Choi E, Lieberman JR, Crystal RG, Hidaka C. Combined Bone Morphogenetic Protein‐2 and− 7 Gene Transfer Enhances Osteoblastic Differentiation and Spine Fusion in a Rodent Model. Journal of bone and mineral research. 2004 Dec 1;19(12):2021-32.
Kiuru M, Solomon J, Ghali B, Van Der Meulen M, Crystal RG, Hidaka C. Transient overexpression of sonic hedgehog alters the architecture and mechanical properties of trabecular bone. Journal of bone and mineral research. 2009 Sep 1;24(9):1598-607.
Lyman S, Hidaka C, Valdez AS, Hetsroni I, Pan TJ, Do H, Dunn WR, Marx RG. Risk factors for meniscectomy after meniscal repair. The American journal of sports medicine. 2013 Dec;41(12):2772-8.
D'apuzzo M, Westrich G, Hidaka C, Pan TJ, Lyman S. All-Cause Versus Complication-Specific Readmission Following Total Knee Arthroplasty. JBJS. 2017 Jul 5;99(13):1093-103.
Mehta N, Chamberlin P, Marx RG, Hidaka C, Ge Y, Nawabi DH, Lyman S. Defining the Learning Curve for Hip Arthroscopy: A Threshold Analysis of the Volume-Outcomes Relationship. The American journal of sports medicine. 2018 Jan 1:0363546517749219.